[title size="1″]Baseball is America's pastime. [/title]
[title size="2″]NuStarz Sports' BatW8z™ are proudly Made in the USA.[/title]
Our manufacturing is staying right here in the United States of America. Poor Quality, unsafe, imported products with recall after recall.. is not something we want our name or customers associated with.  Yes, in some areas we may have slightly higher costs or prices but it is worth it to us to produce better products and keep Americans working and playing Baseball.
Another great inspiration and effort can be found here: at KeepAmerica.com
Here's more from them,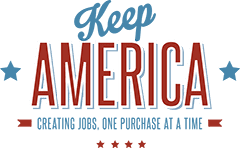 "The vision for KeepAmerica.com is to become a household term for all things Made in America.  While everyone is looking for the solution to solve our country's economic problems, we feel that Keep America is the perfect way for all Americans to do their part in assisting in job creation while getting amazing deals on top quality American made products!
No company is too big or too small to be a part of this movement.  If it's made in the USA, then it's made for Keep America!  If all American made companies come together, we can get the United States back to where it should be.  Love America? Keep America!"