When it comes to BBCOR bats, we at Better Baseball like to look to those who are using them at the highest level, which in this case is NCAA Div I Baseball. The first month of the college season has produced a top ten list of perennial powerhouses, with a long history of winning and College World Series appearances. Every year when we do our BBCOR Breakdown on the top 10 teams in DIV I, we find some interesting trends and occurrences that leave us scratching our heads when it comes to the bats that these players choose to swing. This year is no different.
Most of the BBCOR bats on the market today will perform about the same due to the safety regulations that the barrel is re

quired to not exceed. With that said, players are now primarily looking for sound, feel, and balance more than overall "pop" or performance.
For those of you who don't know, most of these schools are contractually obligated to swing the brand of bat that sponsors or endorses that collegiate program, i.e. LSU- Demarini, UCLA- Easton, South Carolina- Rawlings. With that said, a player at that school can swing any bat as long as it is made by that particular manufacturer. For instance, a player at Rice University ( Louisville Slugger sponsored school), can swing any BBCOR bat in the louisville slugger line, 515 Omaha, 715 Select, or the 915 Prime as well as any past models of that manufacturer.
2015 Trends
Like 2014, we are seeing more and more players swinging alloy barrels than composite barrels. Almost 87% of the players we observed were either swinging a one piece alloy barrel, like the Easton S3z, or a two piece barrel (composite handle, alloy barrel), like the Demarini Voodoo Overlord FT.
Some players are even using models dating back to 2012. We did witness some Florida batters using Easton Surges, a bat that has been discontinued and replaced by the Easton S2z since the start of the 2013 season. Even some LSU players were swinging some of the 2013 Demarini Voodoo Models. Is this trend due to superstition? Do these hitters think that these particular models are superior bats to the newer modes? The answer seems to be player preference.
Probably one of the most notable trends in 2015 bats is the absence of the high end BBCOR bats at these top 10 schools. Although, we did see schools using bats like the 915 Prime and Easton Mako outside of the top 10. Only a handful of players were using the Easton Mako Torq , a bat that has garnered a lot of hype and attention this season due to its rotating handle. We didn't find any players at any of the Demarini Schools swinging the CF7, but we did see several of them in their dugout and on-deck circles. The Louisville Slugger Prime was also a no-show in the top 10 list but we did see it being used by some of their sponsored schools in the top 25.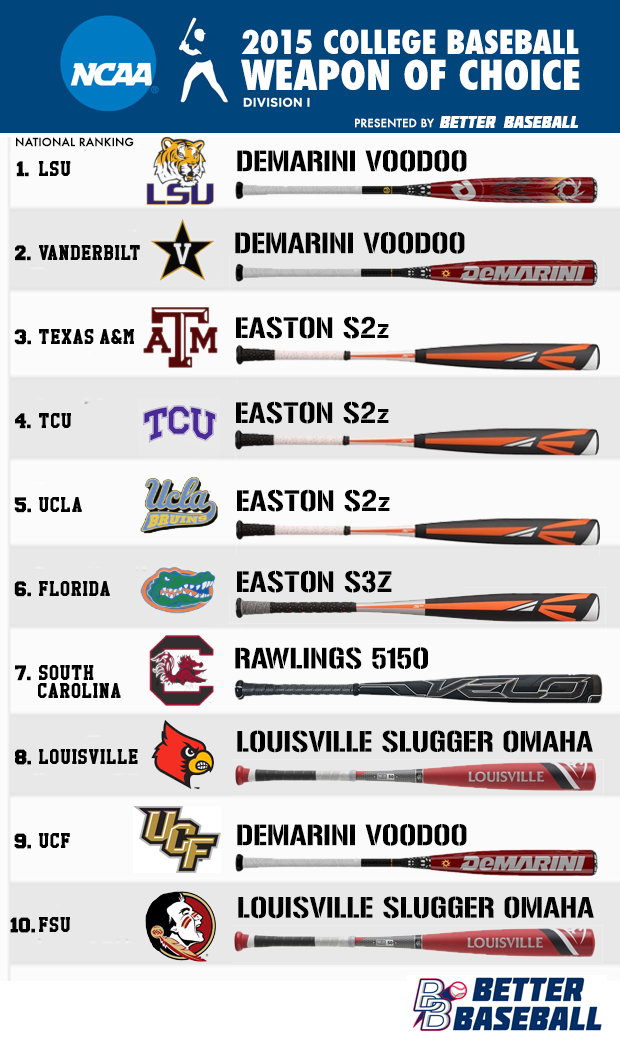 *NATIONAL RANKING AS OF 3/23/15
Better Baseball BBCOR Breakdown
When deciding which bat to designate for a particular team we looked at all 9 hitters in the line up to see which bat is being swung the most . A lot of the time several different bats will be swung by the same team, but we only list the most popular model from the leadoff hitter to the bottom of the order. For instance South Carolina swings the Rawlings 5150, the Velo, and the Trio, but more hitters are swinging the Velo BBCOR than any other.
The most popular bat in our list is the Easton S2z. Easton also has the most sponsored schools in the top 10 with four. ( Demarini 3, Slugger 2, Rawlings 1). The second most popular on the list is the Demarini Voodoo Overlord. Alloy barrels reign supreme on this list with all 10 schools preferring the aluminum alloy over the composite barrel.
As the season carries on, and new 2016 bats become available, look for some of these trends to change. We hope this list helps players make more of an educated decision when picking the perfect BBCOR for their high school or travel ball team. But remember every swing is different. It is best to try a bat out to see if that works for your specific swing and playing style. You can try out all of these bats and more at any Better Baseball location free of charge.